Safe to say I've had a very eventful past few weeks, between going out, eating out and most recently, moving in! Yes, that's right! I've moved into my new flat, (pictures to come when I have sorted my life out) but almost as soon as I moved in was it time to started pack to get the hell outta dodge.
Over the past few weeks, it's been a blur of going out, packing up, seeing people, heavy lifting and unfortunate papercuts, but at the very least I was a bit more organized about leaving this year, rather than jamming everything into a box and throwing away what couldn't fit, but that said, I'm still not completely unpacked, with about 2 boxes and various vacuum bags left to tackle, and the feeble hope that my sheets aren't covered in dust by the time I get back. Howwwwllll.
Allisan brought us out to dinner recently, and the food and company were nothing short of wonderful but the event was not without a tinge of bittersweetness, as it was the last dinner we (or at least I) had with Allisan before her graduation this coming July, and I simply can't imagine what Aberdeen would've been like not knowing her or going on holiday without her. I honestly cannot stress enough what a massive impact she's left on me since meeting her and what a genuinely lovely person she is, and I think I can safely say on behalf of a lot of us that Aberdeen's going to be a lot more grey without her.
I pillaged this from Facebook, since I'm forgetful and rarely have my camera on me.
<3
I didn't take this picture, I got it from Amelia's (far right) blog, which you can read here.
CUTESIES!
Missing you terribly already!
I couldn't leave Aberdeen without going out one last time, so in honour of my friend Kate's birthday, we headed to Club Snafu's Punk Rock Special (their own special way of getting in on the Jubilee celebrations obvs) I promised not to put any pictures up on Facebook, but there's a couple I enjoy too much not to show the world (or at least the scant handful of readers I may have)
Sweaty family portrait.
blogger buddy Jess, who I hope doesn't decide to lynch me for putting this up. I STILL LOVE YOU
Aga, who's leaving us for a year in Vienna. WAH.




Since then, I spent the majority of my remaining time in the UK at home, just ingratiating myself into the new flat (i.e. making pillow forts in my new double bed) before hightailing it to the airport.
I spent the better part of the past 2 days on the plane alternating wolfing down complementary cheese platters and curled up with my face buried in those tiny airline pillows, but I managed to stay awake enough to watch W.E. To be fair, I didn't expect to like it, I assumed it was just some sort of toy project for Madonna, but I found myself really enjoying the aesthetics of the film, especially as far as the yummy Cartier jewels were concerned, and the elegant 30's gowns, sexy in SUCH an understated way. Plus, it's hard to hate something that features people dancing the Charleston while The Sex Pistols blares over.
"Attractive, my dear, is a polite way of saying a woman's made the most of what she's got."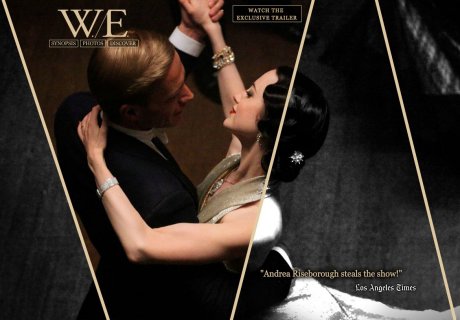 At the moment, I'm sitting at home in front on the box in jammie bottoms and a t-shirt, but I've spent most of yesterday in between time zones. Allow.
What's everyone else up to?
- Diana x x x